Comrades Bar
Edit
Stacker realized he was starting to get too old and decided that he needed a new job/hobby to keep him doing things. He started to cut alcohol consumption by half but still couldn't find a job on Eden due to him being a infamous drunk. Due to him cutting the alcohol consumption by half the stockpile got quite large until Vaz (and Alien) gave him the suggestion to start selling som of it. One day he then opened a bar across the street from Alien's Sushi Bar in Peterson's foreclosed bakery business. The building is spacious where he moved his coffee tables, darts games, and wooden furniture he built. He decided to name it "Comrades Bar" to go along with his old Russian origin but also as a place suggesting as establishment for friends to gather and have fun, the bar is open to the general public. Stacker not only serves drinks but small dishes to his customers.
Employees
Edit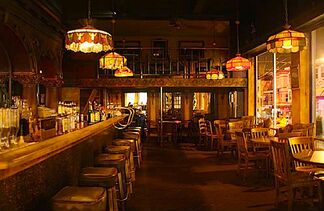 Rtas "Stacker" 'Chavam - Bar Tender (no drinking when working)
Viktor Reznov - Chef
Happy Hour(s) - Between 5 p.m. and 8 p.m. on Fridays drinks are half off.
Taco Tuesday - Every Tuesday during lunch he sells 2 taco for 1 UCR dollar to his customers.
Fish Fry Friday - He sells fish and chips along with the drinks all day/night long.
Help Needed
Edit
Waiters/Waitresses
Cook
Dishwashers/Floor Sweep
Ad blocker interference detected!
Wikia is a free-to-use site that makes money from advertising. We have a modified experience for viewers using ad blockers

Wikia is not accessible if you've made further modifications. Remove the custom ad blocker rule(s) and the page will load as expected.