Rocky

rocky while walking

Species

Exon Rock Crab

Width

3 Inches

Length

3 Iches

Weight

8 Ounces

Height

2 inches
Stacker's Pet Rock
Edit
Stacks found rocky on the beach one day while visiting Exon. He took Rocky back to Eden where Rocky helps Stacks serve drinks
The Exon Rock Crab is a small crab that has a white extremely hard rock-like shell. It like to live on the shores of Exon and doesn't hibernate but "drills" holes into the ice to get back to sea or vice versa for returning to land. The rock crab come in large numbers and can lift weight many times their own.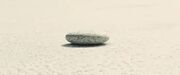 Ad blocker interference detected!
Wikia is a free-to-use site that makes money from advertising. We have a modified experience for viewers using ad blockers

Wikia is not accessible if you've made further modifications. Remove the custom ad blocker rule(s) and the page will load as expected.