Rex



Aliases

K-9

Affiliations

Blade
Rose

Weapons

Smoke pellets
Flash bangs
Plasma launcher
Missiles
Grenades

Status

Active
Rex was made by Alien-king as a gift for Rose & Blade, he was designed to protect the two at all costs. Rex stayed with his owners for a long time. During the Wraith conflict Rex was destroyed, but was eventually repaired by Blade years later, keeping him around where ever he goes.
Weaponry and Equipment
Edit
Plasma Launcher - 
Rex is able to charge a powerful plasma shot in his mouth, when fully charged the shot can even destroy a tank.
Flash bangs and Smoke Pellets - After flipping his shoulder pieces, Rex is able to fire out small flash bangs to daze foes. He can also fire out smoke pellets for easy escape.
Missiles and Grenades - When in full attack mode Rex can unfold a missile rack from his behind, this allows him to fire missiles and (if equipped) grenades.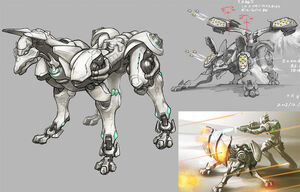 Shielding - 
Rex is able to fold out his back plating to form a protective shield. This also activates his light shield which reduces the damage he takes.
Ad blocker interference detected!
Wikia is a free-to-use site that makes money from advertising. We have a modified experience for viewers using ad blockers

Wikia is not accessible if you've made further modifications. Remove the custom ad blocker rule(s) and the page will load as expected.