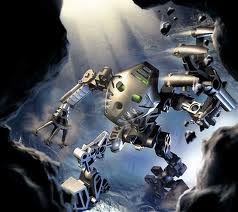 Onua is one of the 6 Biomechanical beings shown in the Forest of no return. It can be implied his Pod was buried underground upon impact. He is shown to be very strong, somewhat quiet and peaceful, and a little sensative to sunlight. His first encounter was while Vaz and Marq were battling, with Onua popping his head out of the ground to see the disturbance being made while he was accidentally collapsing his own underground tunnel. He then emerged and grabbed them, each with one hand, and tossed them away, requesting the fight being stopped. Vaz then tackled Onua, but was unable to grip him very well due to Onua's strength.
Ad blocker interference detected!
Wikia is a free-to-use site that makes money from advertising. We have a modified experience for viewers using ad blockers

Wikia is not accessible if you've made further modifications. Remove the custom ad blocker rule(s) and the page will load as expected.