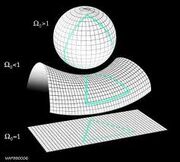 A Closed Space is a theoretical term that describes a separate dimension or a piece of the universe that has been folded upon itself. These dimensions are described to form from anomolies affecting certain events within the universe; therefore, according to theory, they happen completely at random, and are somewhat common. There isn't any normal way of getting into them, and inside, it can be suggested that some of the laws of physics do not apply within them. They are also described as sealed realities, alternate dimensions that overlap reality.
Creation theory
Edit
According to Danno, he and a few other Espers believe that some closed spaces are created by Marq (And it was suggested that similarly powerful Entities/Events can cause them to form as well); this goes along with the theory that Marquis could in fact be a God-like figure, able to create small capsule Dimensions using the inactive part of his mind. While he did not state that Marquis is the only way a closed space can form, Danno believes that somehow Marquis has enough to create one using his indominate will.
According to danno's theory, when Marquis destroyed the Skyverse and recreated it while merged with the Bird-Human some time ago, something happened in which he was accidentally given the power to create a Closed space. With this, additional changes were made to reality: The creation of Espers, a higher shift in his power level, able to create a new body, memory, and personality for a person's spirit to inhabit, and other things.
Also according to his theory, Marquis creates closed spaces when his emotions are unbalanced; in essence, he makes them as a way to release his anger and frustration. He does this by creating Giants known as Shinjin, or Celestials; The Espers believe it is their duty to remove the Celestials, thus destroying the Closed Space.
It was explained that an Esper's powers can only manifest within the Closed Spaces; in the real world, they are as Human as any human.
Ad blocker interference detected!
Wikia is a free-to-use site that makes money from advertising. We have a modified experience for viewers using ad blockers

Wikia is not accessible if you've made further modifications. Remove the custom ad blocker rule(s) and the page will load as expected.